Project 2012: Day 250
We're now into double digit hours, and even in todays instant on, immediate gratification, nothing ever shuts down, for some things, I've left it too late.
Money
There are about 5 ways to travel with money:
1. Change and carry cash – this is one of the most expensive, and risky methods. You get stung on the exchange going over, coming back, and if you ever run out, you have to find an Exchange Agent. Kind've hard when you're in Sticks, Oregon on a Sunday afternoon. Also, you probably don't want to be carrying all of your savings on you.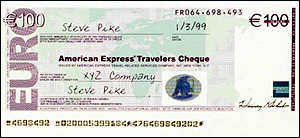 2. Just use your debit/credit card – get stung for a currency conversion on every transaction, not to mention the bank exchange rate. Also, lose your CC and your personal bank accounts are at risk
3. Travellers Cheques. Ok buy some flares and head back to the 70's where you belong. Seriously, does anyone use these any more. They're as risky as cash, and not as convenient as, well, anything really.
4. Pre-paid Travel Debit Card. Not a bad option. It's not tied to your account, you don't have to carry cash, and you pay in the local currency (i.e. only pay once for the transfer) On the minus side, some have hidden fees, so check all of the fees first and compare. Also the banks sting you for a pretty poor rate. On $3000, it's costing me about $150 just on the bank vs wholesale exchange rate
5. A Good Friend. Find a good friend who's a local resident. Ask them to open a local savings account with a debit card, and Internet Banking. Then ask them to give you the card and credentials. Then you log on, change the password and email address to your own. Finally transfer funds via xetrade.com.
You pay no transfer/loading fees
You have a local account, so no ATM fees
No risk to your friend as there's no credit/overdraught limit.
Get the XE Trade wholesale exchange rate
Transfer funds on as often as you want, for free
Ok this last one, you need a good friend, and about 5 business days. I have the former, but not the latter. So although we have a friend who's opened a local savings account for us, this isn't in time for my ride, but is for the family hols.
So on Saturday I head into an ANZ Branch for an ANZ Travel Debit Card. Comes over the counter.
Roadside Assist
I emailed MyMRA.com 5 days ago asking about temporary Roadside Assist whilst I'm on the ride. Not a dickie bird response. Crap!
So I almost took the decision this morning to buy a years subscription, and borrow my friends residential address…
…No time. Seriously.
They want 6 days to process, so I wouldn't have cover until half my ride is done. Doh.
So I've left it too late, and am going to have to dig deep to figure this one out
Last Minute Purchases from Amazon/eBay
Spare batteries for the helmet cam, or SD cards, or a camp chair, or a suitable back pack to transport kit back to Seattle after the ride, or…
…There is no more time. If I don't have it now, or it hasn't been delivered to Motoquest Seattle by now, I go without.
But for once in my travel life, I have left plenty of time. An entire day in fact to finalise packing, ensure things are printed and taken care of.
Still sure I'm going to forget something though…